The pink belly side neck turtle (Emydura subglobosa) is an averaged size turtle species that belongs to the chelidae family. They are very suitable to be a turtle colony and known as Red Belly Sideneck.
These turtles are found in lakes, moving rivers, creeks, and ponds of Papua New Guinea and Australia.
 These turtles have such an attractive upper shell usually a shade of coffee or gray with a pink and red belly, and two yellow stripes on the neck. 
Pink Belly Side neck Turtle Size 
A male pink-bellied side neck turtle is around 5 to 7 inches and a female size around 10 to 16 inches. Adult females are approximately 8 to 9 inches. 
The Female has a short and extremely narrow tail and the male has a long and heavy tail. The baby of these turtles is approximately 1.25 inches when they are born. 
Pink Belly Side neck Turtle Appearance 
Pink belly side neck turtles seem in many different colors. Their upper C shape shell shade is usually of coffee, beige or gray shade. These species have the prettiest pink and reddish-orange color. Snapping Turtle shell comes in a set of dark colors.
The neck skin of the pink belly turtle is like a snake color, gray with two yellow stripes on it. This turtle is the most beautiful of all turtle species and therefore nick-named as "painted terrapin". 
Pink Belly Side neck Turtle Facts
Pink belly side necks are also known as red-bellied short-neck turtles and Jardine river turtles
| | |
| --- | --- |
| Details | Specifications |
| Scientific Name  | Emydura subglobosa |
| Rank  | Species |
| Classification  | Emydura |
| Phylum  | Chordata |
| Family  | Chelidae |
| Lifespan  | 50 years |
| Genus  | Emydura |
| Order  | Testudines |
| Species  | E.Subglobosa |
| Class  | Reptilia |
| Suborder  | Pleurodira |
| Male Size | 5 inches |
| Female Size | 10 inches  |
| Price  | $60 to $230 |
Pink Belly Side neck Turtle Lifespan 
Pink belly side neck turtles have a longer lifespan than other land species. They can live about 50 years in captivity, but the average age is 20 to 30 years. Full-grown adults can take around 12 years to reach adulthood. 
Pink Bellied Side neck Turtle Care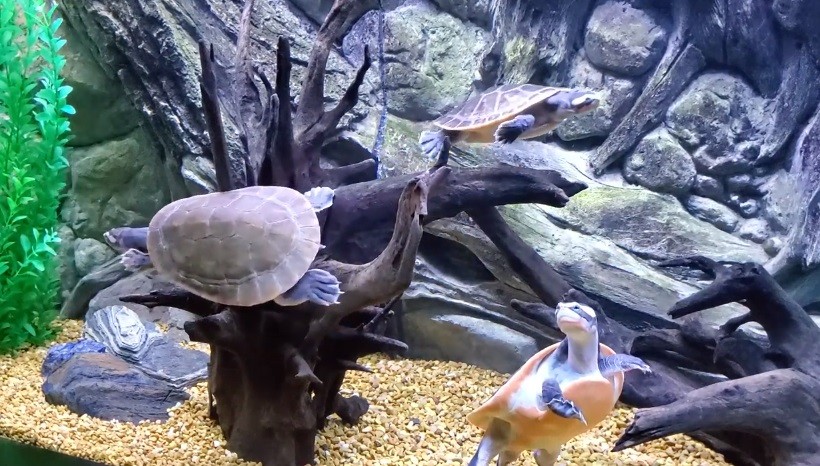 The pink belly is the essence of an aquatic lake turtle. They are water-friendly turtles. They will need natural sunlight and survive best in daylight. 
If they are staying inside, they will need 75-watt limelight lite and vitamin-UVB, during daylight hours. The pink belly requires heat and UVB for almost 12 hours on and off. 
If heat and UVB are not provided to your turtle, there are chances of developing serious deficiency of vitamin A, MDB (Metabolic Bone Disease), and other health problems. 
These turtles can easily survive in brackish water. Their required water temperature ranges from about 66 to 80 degrees. 
Ocean and sea turtles are plant-eaters, animal-eaters, and the ones who eat both, respectively.
Baby Pink Belly Side neck Turtle 
Pink belly turtle babies are around 1.25 inches long when they are born. They have a little squished shell in C shape, having olive green type grey heads.
Their neck is beige or even green with two yellow snake stripes. They become adults at the age of 10 years and they can reach a minimum of 12 inches long. 
Female turtles dig the hovel in the ground to put their eggs inside to save their life. 
Pink Belly Side neck Turtle Gender specifications
It is quite complicated to specify the gender of any species. However, in the case of pink belly turtles, it is a different task. 
Males and Females can be differentiated from one another concerning their tales. This difference can be noticed in turtles when their shell size reaches about 3.5 inches to 5.5 inches in length. 
 A turtle is male if it possesses extended, large, and dense tails. And females are recognized by lean, slender, thin, and smaller tails. 
Pink Belly Side neck Turtle Reproduction 
Pink belly turtle locates usually appear from May to July. Female turtles lay 4 to 11 eggs at the same time on the forest floor clay. Hatchling fastly grows half-inch in a few months.
The hatch size of this turtle is 1.25 inches. The average number of offspring is 7. These turtles' actual sexual and reproductive maturity age is 10 years. 
Albino Pink Belly Side neck Turtle 
The Pink bellied turtles are the most beautiful albino turtles on the earth. They are some albino turtles who have the normal light and brightest colors and look better as they grow. This turtle loves warm temperatures and starts life with very tiny hatchlings. 
Pink Belly Side neck Turtle For Sale 
Pink belly turtles are human-friendly pets. These turtles are a recent introduction to North America and are also known as reddish-orange turtles. 
These turtles are legal to keep throughout the world especially in U.S states with a 7-day health guarantee. They belong to the reptilia class and the prices are typically $89 to $129.
Pink Belly Side neck Turtle Habitat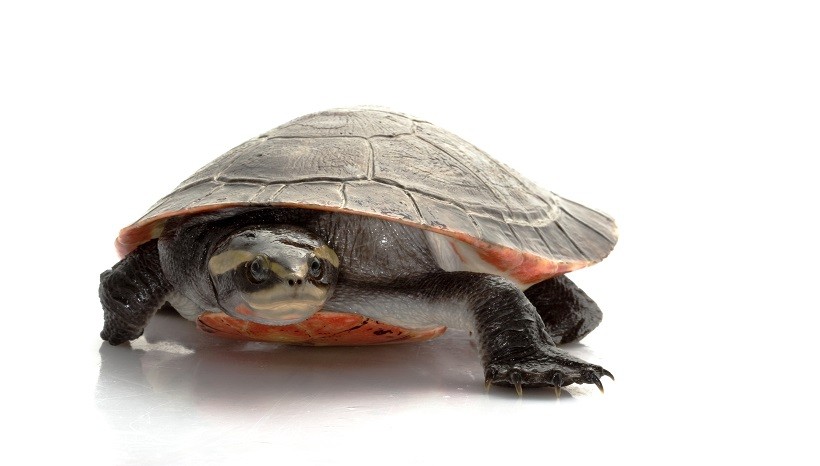 Pink belly side neck turtles are usually found in large lakes, streams, slow-moving rivers, wetlands, creeks, lowland swamps, and ponds of Papua New Guinea and Australia.  Spiny Softshell Turtle mostly found in North America, Africa, and Asia. 
They are water-friendly turtles and amazing swimmers. They love hot weather and are active and curious also. 
Conclusion 
Pink belly side neck turtles are the smallest size pets. As aquatic turtles, their color is more attractive than other species. They have pretty reddish-orange plastron and beige or gray skin with two yellow stripes on the neck.
These turtles like warm weather to swim and feel safe underwater. The female turtles lay their eggs on clay. They are native to New Jersey to North Carolina, Massachusetts, and Papua New Guinea, and Australia. 
FAQs 
1. How large does a pink belly side neck turtle get? 
The approximate size of a pink belly side neck turtle male is about 5 to 7 inches, and the female size is 10 inches to 16 inches mostly. This turtle's hatchling size is 1.25 inches. 
2. Do pink belly Side neck turtles bite? 
Simply, Yes they can bite and snap when they become aggressive and feel uncomfortable and threatened. This is a standard response to a hunter attack. Otherwise, they have a friendly nature. 
3. How much water is needed for a pink belly side neck turtle? 
These turtles do well surviving in groups. They like swimming under the water. These species like warm temperatures. They need an average of 20 gallons of water to survive. The requirements of water increase with time following their size. 
If you want to learn more about pets visit us at

petshoods